By Daniel Margrain
In 1978, the Australian social scientist, Alex Carey, pointed out that the twentieth century has been characterized by three developments of great political importance: "the growth of democracy; the growth of corporate power; and the growth of corporate propaganda as a means of protecting corporate power against democracy."
In order to defend their interests against the forces of democracy, the corporations that now dominate much of the domestic and global economies recognize the need to manipulate the public through media propaganda by manufacturing their consent. This is largely achieved through coordinated mass campaigns that combine sophisticated public relations techniques.
The result is the media underplay, or even ignore, the economic and ideological motivations that drive the social policy decisions and strategies of governments'. Sharon Beder outlines the reasoning behind the coordinated political, corporate and media attacks on democracy:
"The purpose of this propaganda onslaught has been to persuade a majority of people that it is in their interests to eschew their own power as workers and citizens, and forego their democratic right to restrain and regulate business activity. As a result the political agenda is now largely confined to policies aimed at furthering business interests."
This is the context in which the UK political and media establishment continue to both attack Jeremy Corbyn's leadership and demean the membership of the party who had the temerity to vote for him, securing one of the biggest electoral mandates of any Labour leader in British political history.
It's the possibility that Corbyn will break the iron-clad neoliberal consensus that scares the establishment the most. As Mike Sivier has shown, the significant role the media have played in undermining Corbyn's leadership, as well as their failure to explicitly acknowledge the establishment coup against him, can be traced back until at least April, 2016.
Media hate-fest
Arguably, the plot to oust Corbyn began after a hardcore group of right-wing MPs all refused to serve under him. The corporate media also played their part in what has arguably been the most vitriolic and biased reportage ever witnessed against any British political figure in history. What Media Lens accurately described as a "panic-driven hysterical hate-fest right across the corporate media spectrum," began during Corbyn's campaign to become leader.
As the media analysts noted at the time, "the full extent of media bias against Jeremy Corbyn can be gauged simply by comparing the tone and intensity of attacks on him as compared to those directed at the other three candidates: Andy Burnham, Yvette Cooper and Liz Kendall."
The intensity of the media attacks on Corbyn increased after he secured 'the largest mandate ever won by a party leader'. The focus of these attacks included what colour poppy Corbyn would wear, his refusal to sing the national anthem or whether he would wear a tie or do up his top button. All of this was granted national news headlines and incessant coverage. Not to be outdone, in October 2015, the BBCs political editor Laura Kuenssberg featured in an almost comically biased, at times openly scornful, attack on Corbyn's reasonable stance on nuclear weapons. The BBC then broadcast five senior Blairite Labour figures all opposing Corbyn without any opportunity for an alternative viewpoint.
Kuenssberg followed up this hatchet-job three months later when she helped to orchestrate the live resignation of Labour shadow foreign minister Stephen Doughty on the BBC2 Daily Politics show as a pre-requisite to accusing Corbyn's team of 'unpleasant operations' and 'lies'. Then came the April 12, 2016 Telegraph article – a non-story about Corbyn's state-funded salary and pension.
Not to be outdone, eleven months later (March 5, 2017), the same rag continued with the smears by suggesting Corbyn had paid insufficient tax on his declared annual earnings – a claim subsequently debunked within hours on social media. Meanwhile, the news that Tory Chancellor, Philip Hammond, refused point-blank to publish his own tax returns after being prompted to do so by Shadow Chancellor, John McDonnell, did not receive anything like the same kind of media scrutiny.
The implication of this 'fake news' story, was that Corbyn had misled the public. However, similar media outrage was not leveled at PM Theresa May after it was revealed  yesterday March 7, 2017) that she had lied to parliament after having falsely claimed that Surrey Council had not engaged in a 'sweat heart' deal with the Conservative government. It appears that when it comes to Corbyn, a completely different set of media standards are applied. Indeed, this is supported by the evidence. Academic studies confirm the media's anti-Corbyn bias.
A major content analysis from Cardiff University revealed that the BBC is pro-business and Conservative-leaning in its coverage.
The London School of Economics and Political Science found strong media bias against Corbyn, claiming the press had turned into an "attack dog" against the opposition leader.
The UK's public service broadcaster gave double the airtime to Corbyn's critics than to his allies at the start of the 2016 Labour coup, according to content analysis from the Media Reform Coalition.
Portland Communications & the antisemitism row
Arguably, one of the most serious impacts that have emerged from this sustained media campaign of biased vilification, have been the attempts by the right-wing Friends of Israel group within the Parliamentary Labour Party (PLP) to topple Corbyn using the specter of antisemitism as a weapon with which to achieve it. Among the most comprehensive analyses of the McCarthy-style witch-hunts undertaken so far has been by journalist Asa Winstanley.
In an excellent piece published by the Electronic Intifada (April 28, 2016), Winstanley outlined the links between right-wing, anti-Corbyn and pro-Israel forces within the Labour party. He meticulously showed how this lobby manufactured an 'antisemitism crisis', pinpointing the individuals involved, the tactics and dirty tricks used and the connections to powerful individuals whose ties lead to pro-Israel groups both in London and Israel.
One of the most prominent attacks on Corbyn centred on a contrived 'antisemitism' accusation made by Labour MP, Ruth Smeeth who Wikileaks have revealed is a 'strictly protected' US informant. Smeeth staged a highly publicised walk-out during Corbyn's launch of a review into the Labour party's 'anti-semitism crisis' on June 30, 2016 which, as Jonathan Cook pointed out, was in fact, "a crisis entirely confected by a toxic mix of the right, Israel supporters and the media."
A few days earlier another manufactured and staged anti-Corbyn story made the headlines. This time it centred around a Corbyn 'heckler' at Gay Pride, who in fact, as Craig Murray observed turned out to have been Tom Mauchline who works for the public relations firm, Portland Communications, whose 'strategic counsel' is Alastair Campbell, Blair's former media chief who helped to sell the illegal invasion-occupation of Iraq.
Eagle's hard landing
In addition to all of this, Corbyn's pro-Remain position with respect to the EU referendum provided his critics with the ammunition they needed in their attempts to undermine him further. Chief among these critics is Angela Eagle, one of the many Oxford educated New Labour plotters who resigned her post in order to position herself as a potential replacement for Corbyn and who claimed to be dissatisfied with Corbyn's performance during the EU referendum campaign. However, as the graphic below indicates, Corbyn did much better than Eagle in defending their respective Remain positions: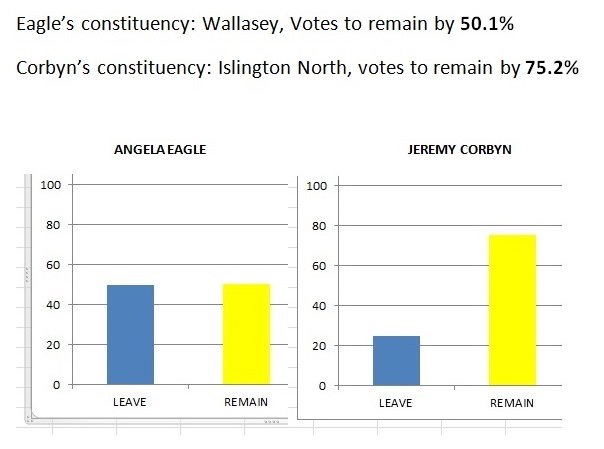 According to a YouGov poll in the run up to the second election, Eagle commanded just 6 per cent support from Labour members and eventually dropped out of the race to be replaced by challenger, Owen Smith.
The Owen Smith debacle
In a debate on the September 8, 2016 edition of BBC's Question Time leading up to the election, a studio audience member accused Smith of "being in the wrong party". Smith's voting record in parliament appeared to support this thesis.
Having pitched himself as a 'soft-left' anti-austerity alternative to Corbyn, the former public relations professional had previously given interviews supporting PFI and, as chief lobbyist for the U.S multinational Pfizer, he actively pushed for the privatization of NHS services. Commenting on a Pfizer funded 'focus group' study as part of a press release, Smith referenced and promoted the notion that the precondition for greater availability of healthcare services was the ability of the public to be able to pay for them.
Smith also supported Blair's city academies and assiduously courted the arms industry of which his support of Trident was a reflection. Arguably, most important of all, is that Smith effectively lined up with the Tories, alongside another 183 Labour MPs in July, 2015 by refusing to vote against the Conservative governments regressive and reactionary policy of welfare cuts to some of the most vulnerable people in society.
In the end, Labour Party members understood that first and foremost Smith was concerned with image and branding as opposed to adopting a principled political and ideological position and voted accordingly.
As Craig Murray put it:
"There is no evidence whatsoever that Smith is a left winger. There is every evidence that he is another New Labour unprincipled and immoral careerist, adopting a left wing pose that he thinks will win him votes."
The cementing of Corbyn's mandate
Consequently, Corbyn increased his proportion of the vote and hence his mandate. This was despite a war of attrition by the PLP that involved a McCarthyite purging of Corbyn supporters – a disdain for the grass roots membership which has a long history within the hierarchy of the party.
The grass-roots popularity for Corbyn must be seen against a backdrop in which the Labour party gained 60,000 members in one week following the attempted coup against him. Membership of the party is currently higher than it's last peak of 405,000 members last seen under Tony Blair's leadership.
As Corbyn's vindication by the memberships overwhelming support of him shows, the 'race to the bottom' strategy of his opponents serves nobody other than the narrow careerist motivations of an out of touch elite who have their snouts embedded in the trough and don't want to give up their privileges without a fight. A sincere and incorruptible politician like Corbyn represents a potential threat to these privileges and the gravy train that sustains them.
This explains why the careerists inside the New Labour bubble would prefer a Tory government over a Corbyn government and thus are happy to continue with the 'divided party at war with one another' meme. This was what the challenge to Corbyn's authority within the right-wing of the party is really all about. It's not that Corbyn hasn't a realistic chance of winning the next General Election, rather, it's more a case that the establishment will do everything in their power to ensure that he doesn't.
Battle lines drawn
In that sense, the political battle lines have been drawn, not between the Tories, the corporate mass media and the right-wing 'opposition', but between these factions and the rest of us. The resignation of the right-winger, Tristram Hunt, who was essentially parachuted into his Stoke-On-Trent constituency, represents a tacit acknowledgement by the Blairites that the New Labour faction within the party is on the ropes and that Corbyn is in the ascendancy. This notion was articulated by Ken Livingston, who in response to the resignation echoed the views of the grass roots when he depicted Hunt as being part of:
"a small elite that is very much London based that dominated the Labour party under the Blair-Brown years and were in awe of the bankers and forgot the needs of ordinary working class and middle class families, that era is gone."
The popularity of Corbyn among grass roots members within the party has nevertheless not deterred elder statesmen like David Blunkett and Neil Kinnock from continuing to make the assertion that Corbyn is an electoral liability for Labour.
Myth-making
This narrative is consistent with the notion that the left are un-electable more generally. Such a narrative is a myth. As Craig Murray posited, the idea that you have to be right-wing to win elections is belied by the fact that the SNP under Nicola Sturgeon won the people of Scotland over on a left-wing ticket. Secondly, as he rightly says, there is no point being elected just so you can carry out the same policies as your opponents. Third, the British public's 'enthusiasm' for somebody like Blair in 1997 was not based on policies known as Blairite. As Murray astutely points out:
"The 1997 Labour Manifesto  was not right-wing. It did not mention Academy schools, Private Finance Initiative, Tuition Fees, NHS privatisation, financial sector deregulation or any of the right wing policies Blair was to usher in. Labour actually presented quite a left wing image, and figures like Robin Cook and Clare Short were prominent in the campaign. There was certainly no mention of military invasions. It was only once Labour were in power that Blair shaped his cabinet and his policies on an ineluctably right wing course and Mandelson started to become dominant. As people discovered that New Labour were "intensely relaxed about people getting filthy rich", to quote Mandelson, their popular support plummeted. "The great communicator" Blair for 90% of his Prime Ministership was no more popular than David Cameron is now. 79% of the electorate did not vote for him by his third election."
Murray continued:
"Michael Foot consistently led Margaret Thatcher in opinion polls – by a wide margin – until the Falklands War. He was defeated in a victory election by the most appalling and intensive wave of popular war jingoism and militarism, the nostalgia of a fast declining power for its imperial past, an emotional outburst of popular relief that Britain could still notch up a military victory over foreigners in its colonies. It was the most unedifying political climate imaginable. The tabloid demonization of Foot as the antithesis of the military and imperial theme was the first real exhibition of the power of Rupert Murdoch. Few serious commentators at the time doubted that Thatcher might have been defeated were it not for the Falklands War – which in part explains her lack of interest in a peaceful solution. Michael Foot's position in the demonology ignores these facts. The facts about Blair and about Foot are very different from the media mythology."
The reality, as one commentator on twitter put it, is that in corporate media and political establishment parlance, "un-electable" is media-political code for 'likely to be highly electable but 'will not serve elite interests.'"
Snap election
No sooner had PM Theresa May announced her decision to go to the country in a snap election predicated on a single issue Brexit strategy, Corbyn, was quickly out of the blocks in his attempts to wrong-foot her. The Labour leaders first General Election campaign speech and Q&A in which he outlined a broad set of policies to tackle growing inequality and reverse years of Tory austerity, was a tour de force.
The Labour leader's critics – including many within his own party – argue he is unelectable. However, Corbyn's political record would suggest otherwise. In his constituency of Islington North, Corbyn inherited a majority of 4,456, which is now 21,194. He's one of the few Labour MPs whose vote increased between 2005 and 2010, when he added 5,685 to his majority. It must also be remembered that Corbyn's record during elections is exemplary, and that pre-coup, Labour led the Tories in three polls in a row over 41 days.
Furthermore, London and Bristol now have Labour mayors, rolling back years of Tory dominance, while Labour's majorities in by-elections have generally increased. It's true that the by-election in Copeland was a major disappointment but this was largely offset by Gareth Snell who took the Stoke seat.
It is also worth noting that Labour won three local government by-elections – two off the Tories and one off the SNP. In last May's local elections, the party overtook the Tories in the share of the vote, coming from seven points behind at the last election.
Meanwhile, the party haemorrhaged 4.9 million votes between 1997 and 2010 under the 'triangulated' leadership of Tony Blair. The man who took the country to war in Iraq under a false prospectus, and who lobbies on behalf of some of the world's most brutal and corrupt dictators, claimed in a moment of Orwellian doublespeak that Corbyn is a disaster for the party. Given Blair's toxicity, this can only be beneficial for the current Labour leader's fortunes.
There are other potentially toxic issues that Corbyn can capitalize on. For example, May's unpopular campaign focusing on grammar schools is likely to play into Corbyn's hands. Unfortunately, this gain could be offset by his misjudged Brexit strategy prior to May's announcement which I commented on here. But, as I contend below, this situation is not irreversible.
Other issues that the Tories won't be able to hide away from, is the chaos in the NHS and social care sector, the scandal of zero hours contracts, in-work poverty and welfare cuts among others.
Ultimately, the implication the public don't necessarily favour Corbyn's politics is wrong. His position on the NHS and the re-nationalization of the railways, for example, are universally popular. Rather, it's more the case that the elite political-media establishment know Corbyn is incorruptible and therefore feel they are unable to win him over on their own terms. Consequently, they realize that the longer Corbyn remains at the helm the more likely it will be that those sympathetic to him and his policies will be elected into positions of power.
The fact that the media barons are constantly drumming it into the public's heads that Corbyn is useless and should resign, is a testament to his unflinching endurance to see through the mandate entrusted upon him by the rank and file. If both the right-wing Tory media and his political opponents are so convinced that he has no chance of winning the election, why would they keep insisting that he resign?
Moreover, the criticism often leveled at Corbyn that he provides weak opposition at the dispatch box during PMQs, is belied by the fact that under his leadership the Tories have been forced into some thirty policy u-turns.
Cracks
Cracks have already started to appear in the Tory armory. As Left-Foot Forward have noted, both the PMs press secretary, and her director of communications and long-term adviser, have departed company with her. In addition, "May's two closest advisers have a long history of intra-government feuds – both were forced to leave May's home office team after rifts with other members of David Cameron's cabinet – and the trend seems to be continuing in Number 10."
"The string of departures from Number 10 has been linked to May's highly controlled leadership style. Government officials frequently report that power over government messaging and media strategy is heavily concentrated in the hands of 'the chiefs'… and that more junior members of staff have limited freedom to operate."
May's authoritarianism has arguably been the motivating factor which has led to what the Canary reported (April 24, 2017) as the resignation of a third senior adviser from Downing Street within a week. The PMs control freakery is underlined by what Ash Sarkar, describes as "a moment of short-term political opportunism which actually has potential catastrophic affects in terms of a concentration of power in the executive."
It's May's totalitarian instincts that are symbiotic of the rightward drift in politics over the last four decades, that has culminated in some of the most severe attacks on our civil liberties within living memory.
Five months ago (November 20, 2016), former UK ambassador to Uzbekistan, Craig Murray, published a blog piece that is apposite for the current situation. In it, he illustrates an example of the PMs total contempt for democracy legitimized by what he accurately terms as "an over-mighty executive government backed by corporate wealth which controls a corporate media."
Murray continued:
"Her [May's] default position is to retreat into secrecy and blatant abuse of power. That is precisely what we are seeing over Brexit, where there is no plan and much to hide. May's natural instinct is to brook no opposition, debate or discussion of her actions, but to proceed on the basis of executive fiat, with as little information as possible given to parliament, devolved authorities and – Heaven forbid – the public."
Both Murray and Sarkar's assertions augment the refusal by May to take part in a televised public debate in the run-up to the election, her banning of both the public and journalists from Tory events and the insistence that her MPs sign a three lock pledge.
May's autocratic style, indicative of her reluctance to allow proper democratic scrutiny, points to her lack of intellectual acumen and the paucity of her campaign policies underpinned by the repetitive mantra, "strong and stable" – amusingly parodied by Mike Sivier (April 27, 2017).
The former has been picked-up on by Craig Murray: "That May is intellectually out of her depth is plain even to Conservatives every Prime Minister's question time in the Commons", he said.
The paucity of May's campaign has been noted, even by some establishment commentators. Columnist Fraser Nelson, for example, revealed in the Telegraph (April 21, 2017), that May's election manifesto is likely to be extremely light in both content and detail which a single hard Brexit strategy implies.
An illustration of the PMs lack of intellectual acumen and autocratic style, was perhaps most pertinently highlighted by constituent, Louise Trethowan, who related a fifteen minute encounter she had with May at her constituency office in Maidenhead.
Trethowan said:
"For me, it was an excellent opportunity to put all my fears – and the concerns of the 48 per cent – to the woman who will lead us towards the Brexit cliff edge. I expected… her to present some strong arguments that would counter my own."
But what she witnessed was a rude, aggressive and finger-pointing individual who was unable to hold an argument.
Trethowan added:
"She [the PM] seemed petulant, defensive, tired and rattled… If the Prime Minister is so easily angered how on earth is she going to be the best negotiator for Brexit? I fear she will lose her temper and start jabbing her finger at people."
The reliance on a constituency of right-wing extremists to argue the Tories' case for returning an unstable individual to Downing Street based on a 'blank cheque' hard Brexit, while ignoring the key bread and butter issues, is a risky one and could easily play into the hands of her political opponents.
A major beneficiary of such an approach will almost certainly be the pro-Remain Liberal Democrats which could significantly split the Tory vote. Of course, the billionaire-owning mass media support the Tories with near unanimity. But the front page of the Daily Mail (April 19, 2017) which ran with the headline "Crush The Saboteurs" (see below), is likely to alienate 48 per cent of the population who voted Remain. Therefore, the right-wing media's depiction of over 16 million people as "the enemy" could realistically backfire on the Tories.
Battle ahead
Arguably, some of Corbyn's biggest battles in the campaign ahead will be with the media and the disrupting forces inside his own party. However, those already writing-off the Labour leaders chances are, in my view, doing so prematurely.
It's true that at the present time Corbyn is well behind in the polls but, as Craig Murray points out, this can be misleading. The downside for Corbyn, according to YouGov, is that Labour is losing out to the Tories for the vote of the oldest and least educated demographic – many of whom are traditional working class voters. Labour's longer-term prospects are also hindered by the fact that society is ageing.
But on the other hand, YouGov found that Labour was leading the voting intention polls with under-40s. The problem for Labour, historically, has been that it's this group who have been the least likely to go out and vote compared to their older counterparts. If Corbyn can mobilize this former hitherto relatively passive demographic group into voting, then the polls could be significantly closer than many pundits are suggesting. It is also worth keeping in mind that the last Tory PM to call an early election on a single issue while ahead in the polls was Edward Heath – and he lost.
It was music to this writers ears that Corbyn began his campaign emphasizing Labour's policy plans in a lucid and persuasive way. But in my view, he needs also to ensure that voters are to be under no illusion that the hard Brexit May is offering is not what people voted for. He needs to come out and say so unambiguously. In this way he has every chance of capturing a great swath of the Lib-Dem vote. It was therefore disappointing that Corbyn's team announced on April 26, 2017 that the Labour leader would not take the opportunity to do so within a live televised TV debate format.
Nevertheless, the two-pronged strategy of focusing on May's shortcomings over Brexit on the one hand, and Corbyn's emphasis on outlining policies to reduce inequality and create a fairer society on the other, could be the trigger required to get the young to come out and vote in huge numbers.
Whatever the outcome, it's difficult not to agree with Craig Murray when he said:
"I do not think this will be a comfortable election for the Tories, as even the media cannot prevent the electorate from twigging May avoids people, avoids scrutiny, and is programmed with only three lines. But if Labour do suffer large losses in England, then Corbyn should look to Scotland for an example and take heart. Any defeated Blairites will not come back. They go away if you stop paying them. That should embolden him to carry on as leader. Politics is in an era of unprecedented volatility, and assuming May is re-elected, within two years she will be massively unpopular as the effects of Brexit hit."
If you've enjoyed reading this or another posting, please consider making a donation, no matter how small. I don't make any money from my work, and I'm not funded. You can help continue my research and write independently outside the control of corporate-owned and power-serving media structures.… Thanks!