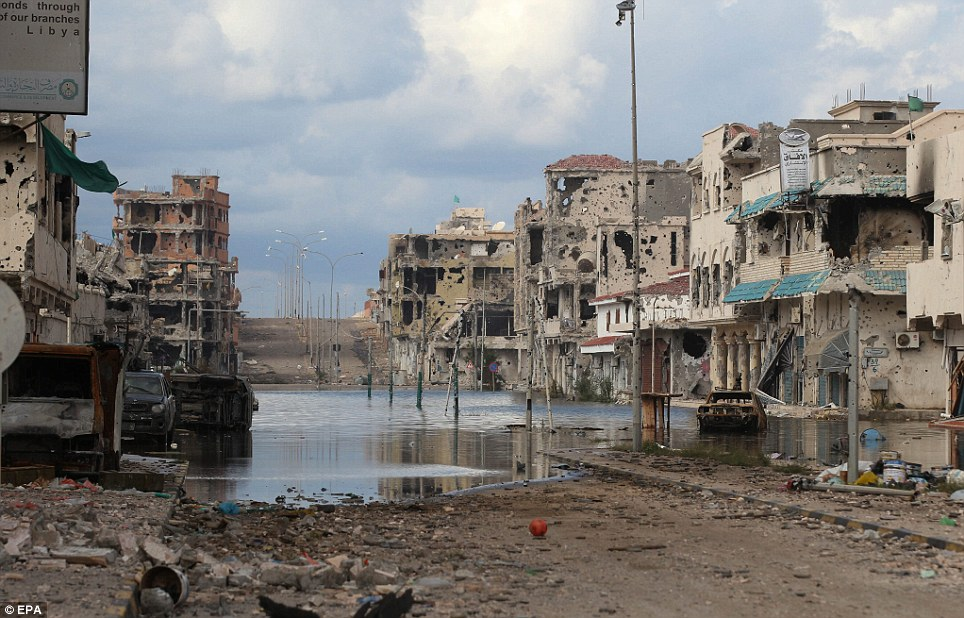 It would appear that the failed Western interventions predicated on packs of lies that have resulted in widespread chaos and hundreds of thousands of deaths in Iraq, Afghanistan and Libya with many more displaced and turning up on the shores of Europe, is not enough for harbingers of democracy and freedom and their media echo chambers'.
Since Nato's illegal "humanitarian intervention" which resulted in the overthrow of Muammar Gaddaffi, thousands of prisoners have been held without trial in government jails, and torture and brutality have become rife. In fact, torture, bombings and assassinations are now par for the course in Libya, as described here.
Similarly, In Iraq, where prior to the allied invasion and occupation, Al Qaeda had no presence, the country is currently awash with the medieval savages known as ISIS and where sectarian violence is commonplace. In a single day in 2013, thirteen bombs were detonated in Baghdad killing at least 47 people. This is the context in which thousands of academics have been forced to leave the country.
Despite all of this carnage and human misery, the Pew Research Journalism Project finds that 'the No. 1 message' on CNN, MSNBC and Fox News, and Al Jazeera, was "that the U S government should get involved in the conflict" in Syria. No surprise, then, that much of UK journalism had decided that the current Official Enemy was responsible for the chemical attacks in the Damascus suburb of Ghouta almost two years to the day.
This was long before the UN published the evidence in its report on "the alleged use of chemical weapons in the Ghouta area" on September 16 of that year. The UN did not blame the Syrian president, Assad, for the attack, but in truth expressed "grave doubts", despite pre-emptied media claims to the contrary.
Just one day after the attacks, for example, a Guardian leader claimed there was not "much doubt" who was to blame, as it simultaneously assailed its readers with commentary on the West's "responsibility to protect". The media's response to the May 2012 massacre in Houla, similarly blamed it on Assad.
By not sticking to the script, Reuters was one of the few outlets who actually relayed the truth. On September 7, 2013 it reported:
"No direct link to President Bashar al-Assad or his inner circle has been publicly demonstrated, and some U.S. sources say intelligence experts are not sure whether the Syrian leader knew of the attack before it was launched or was only informed about it afterward.

"While U.S. officials say Assad is responsible for the chemical weapons strike even if he did not directly order it, they have not been able to fully describe a chain of command for the August 21 attack in the Ghouta area east of the Syrian capital."
The lack of evidence of Assad's culpability didn't prevent US president Obama from regurgitating the media line by unequivocally pinning the blame on Assad for the chemical attack. Following Obama's earlier warnings that any use of chemical weapons would cross a "red line", he then declared on September 10, 2013:
"Assad's government gassed to death over a thousand people …We know the Assad regime was responsible … And that is why, after careful deliberation, I determined that it is in the national security interests of the United States to respond to the Assad regime's use of chemical weapons through a targeted military strike."
Pulitzer Prize-winning journalist, Seymour Hersh saw through the lies and accused Obama of deceiving the world in making a cynical case for war. In response to pressure from an informed public who also saw through the deceptions, British MPs voted in parliament against war and Obama subsequently backed down.
Award-winning investigative journalist Gareth Porter shows that:
[T]he Syria chemical warfare intelligence summary released by the Barack Obama administration August 30 did not represent an intelligence community assessment, [but appears to be] more politicised than the flawed 2002 Iraq WMD estimate that the George W Bush administration cited as part of the justification for the invasion of Iraq.
Two years down the line and the unsubstantiated media claims keep coming. A Channel 4 News report (August 26) by foreign affairs correspondent, Jonathan Rugman, showed what appeared to be the aftermath of what he described as "air attacks by the Assad government….that have killed scores of people" allegedly committed on August 23, once again, in Ghouta. Amid scenes of widespread destruction and panic, civilians were filmed carrying blood soaked dead or injured bodies from the rubble.
It's my view that the public are once again being softened up for yet more military intervention in another sovereign nation, this time, Syria which UN Secretary General Ban Ki-Moon pointed out, would clearly be illegal. What people appear to be questioning in ever increasing numbers, since the Iraq debacle, is the nature of war and the role the imperialist powers like Britain and America play in these wars.
These debates have taken on a new sense of rigorous critique since Iraq resulting, for example, in the rejection by the British parliament of Obama's red line. In America, congressional voting has unleashed a swarm of debates such as why should the US be the world's policeman and what exactly are "US interests" in another country's sectarian civil war?
People are increasingly beginning to understand that foreign military interventions in places like Syria and Iraq exacerbate ethnic and tribal sectarian based conflicts and that the only feasible option in resolving what has in effect become an international conflict, is discussion and diplomacy. People are less likely to believe their governments' and their media echo chambers' when they make unsubstantiated claims about reasons for a war.