By Daniel Margrain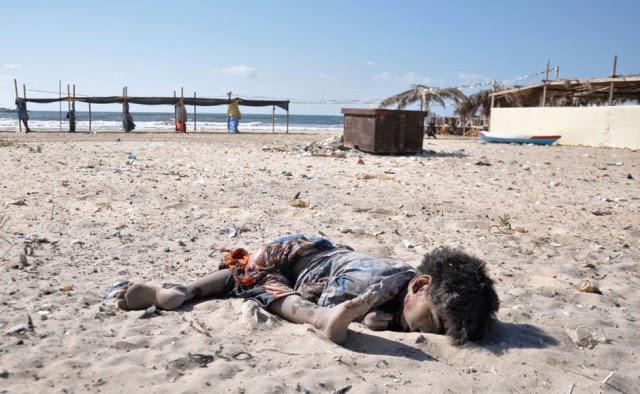 In case you thought the political-media response to the little boy on the beach was about compassion…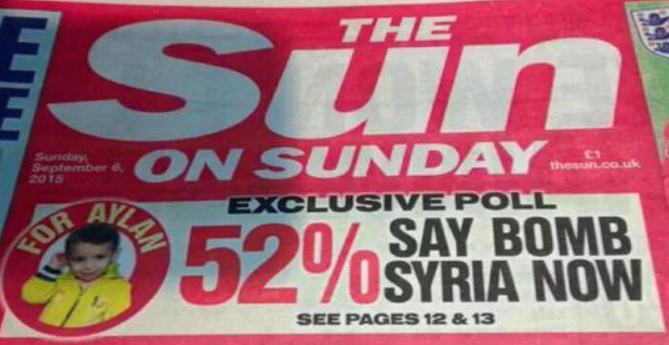 .
According to the Independent:
George Osborne has given a strong signal that Britain will take part in military action in Syria as he warned that dealing with the escalating refugee crisis meant tackling President Bashar al-Assad's "evil" regime:
There was speculation mounting in Whitehall that the Prime Minister could ask MPs to back enforcing a no-fly zone over Syria, as a way to protect ordinary citizens, rather than all-out strikes against Damascus.
The implementation of a "No-fly Zone" is code for the mass killing of civilians and widespread destruction of infrastructure by NATO of the kind evidenced in Libya in 2011. At that time, we were told that external foreign intervention into that country was necessary because Gaddafi had used Viagra-fuelled mass rape and foreign mercenaries as weapons of war, and that he had plans for a massacre in Benghazi – claims that were proven to have had no basis in fact.
Moreover, once the intervention was underway (and contrary to media claims at the time), it was NATO and the 'rebel' Libyan Transitional Council (NTC), and not the Gaddafi regime, that had rejected all peace initiatives out of hand. The real motivation was regime change predicated on the 'responsibility to protect'(R2P) doctrine.
The result of this "responsibility to protect" was more death, destruction and chaos that led to a worsening of living conditions and widespread anarchy in the country for those who survived as well as creating a surge in the numbers trying to reach Italy. The end result was that an estimated 50,000 people died. Sirte, previously a city of 100,000 people, was reduced to a smoking ruin due to several weeks of siege.
Below is a photo of Sirte as it looked in the aftermath of NATO's "no-fly zone" assault which included daily indiscriminate bombing, the cutting off of water, food, medicine and electricity supplies, the shelling of a hospital, widespread looting and massacres. Aid agencies described how the attack had created a humanitarian crisis:
The Guardian's Seumas Milne noted that:
While the death toll in Libya when Nato intervened was perhaps around 1,000-2,000 (judging by UN estimates), eight months later it is probably more than ten times that figure". Milne added: "if the purpose of western intervention in Libya's civil war was to "protect civilians" and save lives, it has been a catastrophic failure.
The truth is, there was no UN mandate for regime change, even though this was very obviously NATO's illegal aim. A version of the 'responsibility to protect' (R2P) was formulated at the 2005 UN World Summit proposed by the Evans Commission. This version authorises 'regional or sub-regional organisations' such as NATO to determine their "area of jurisdiction" and to act in cases where "the Security Council rejects a proposal or fails to deal with it in a reasonable time".
R2P is often described as an 'emerging norm' in international affairs. But as Noam Chomsky has noted, Japan's attack on Manchuria, Mussolini's invasion of Ethiopia, and Hitler's occupation of Czechoslovakia were 'all accompanied by lofty rhetoric about the solemn responsibility to protect the suffering populations'. In fact, R2P has 'been considered a norm as far back as we want to go'.
On March 18, 2011, the day before NATO launched its assault on Libya, the BBC quoted from a speech by prime minister David Cameron:
On the 23rd February the UN Secretary General cited the reported nature and scale of attacks on civilians as "egregious violations of international and human rights law" and called on the government of Libya to "meet its responsibility to protect its people.
In the same way that the public were 'softened up' for NATO intervention in Libya as the precursor for illegal regime change in that country, they are, with the images of refugees, being softened up with regards to an impending attack on Syria. The intention is to pin the blame for the refugee crisis on Assad. This is, whether intentionally or unintentionally, being augmented by individuals like the former archbishop of Canterbury, Lord Carey, who argued for:
"renewed military and diplomatic efforts to crush the twin menaces of Islamic State and al-Qaeda once and for all. Make no mistake: this may mean air strikes and other British military assistance to create secure and safe enclaves in Syria".
Carey's comment followed the recent biased anti-Assad 'hit piece' by Channel 4s Jonathan Rugman.
Despite all of the carnage and human misery, the Pew Research Journalism Project concluded that 'the No. 1 message' on CNN, MSNBC, Fox News, and Al Jazeera, was "that the U S government should get involved in the conflict" in Syria. No surprise, then, that much of UK journalism had decided that the current Official Enemy was responsible for the chemical attacks in the Damascus suburb of Ghouta two years ago.
On September 16, 2013, the UN published the evidence in its report on "the alleged use of chemical weapons in the Ghouta area". The UN did not blame the Syrian president, Assad, for the attack, but rather, expressed "grave doubts", despite pre-emptied media claims to the contrary.
Just one day after the attacks, for example, a Guardian leader claimed there was not "much doubt" who was to blame, as it simultaneously assailed its readers with commentary on the West's "responsibility to protect". The media's response to the May 2012 massacre in Houla, similarly blamed it on Assad.
By not sticking to the script, Reuters was one of the few outlets who actually relayed the truth. On September 7, 2013 it reported:
"No direct link to President Bashar al-Assad or his inner circle has been publicly demonstrated, and some U.S. sources say intelligence experts are not sure whether the Syrian leader knew of the attack before it was launched or was only informed about it afterward.
"While U.S. officials say Assad is responsible for the chemical weapons strike even if he did not directly order it, they have not been able to fully describe a chain of command for the August 21 attack in the Ghouta area east of the Syrian capital."
None of this ought to have come as any surprise to those informed of the background issues. In May, 2011, Michel Chossudovsky, Professor of Economics at the University of Ottawa, commented on the first outbreaks of violence in Syria:
What is clear from these initial reports is that many of the demonstrators were not demonstrators but terrorists involved in premeditated acts of killing and arson. The title of [an] Israeli news report summarizes what happened: 'Syria: Seven Police Killed, Buildings Torched in Protests.'
The initial conflict, Chossudovsky noted:
had all the appearances of a staged event involving, in all likelihood, covert support to Islamic terrorists by Mossad and/or Western intelligence. Government sources point to the role of radical Salafist groups (supported by Israel). Other reports have pointed to the role of Saudi Arabia in financing the protest movement…Since the Soviet-Afghan war, Western intelligence agencies as well as Israel's Mossad have consistently used various Islamic terrorist organizations as "intelligence assets". Both Washington and its indefectible British ally have provided covert support to "Islamic terrorists" in Afghanistan, Bosnia, Kosovo and Libya, etc. as a means to triggering ethnic strife, sectarian violence and political instability… The ultimate objective of the Syria protest movement, through media lies and fabrications, is to create divisions within Syrian society as well as justify an eventual "humanitarian intervention."
As Chossudovsky observed, Syria is on the US list of 'rogue states.
So regime change in Syria has for many years been part of the West's agenda and they have been continuously looking for their justification for Assad's overthrow. This has led to allegedly progressive people who ought to know better commenting that it's a moral imperative that "we do something".
The photograph of the dead three year old boy washed up on a beach further amplified the knee-jerk reactions of the arm chair Generals' to minimize 'collateral damage' by 'surgically' hitting pro-Assad and ISIS 'targets'. Presumably, this will involve dropping bombs from a great height on densely populated areas.
Adam Johnson illustrates, with conviction, how the justified outrage of the dead boy was interpreted by much of the media and politicians' as a call to arms against the Assad regime.
All this illustrates the extent to which the anti-Assad propaganda offensive has left an indelible mark on people that had fallen into the media trap. It should be noted that this was also the case with Libya and Iraq before that. The only thing many commentators' seem to learn from history, is the fact that they learn nothing from history.